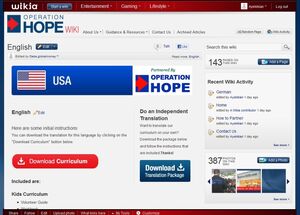 Global Money is an exciting new initiative from Operation HOPE , the world's leading financial literacy and economic empowerment nonprofit organization. Financial literacy is about learning how the system can stabilize families, helping individuals make sound financial decisions, and empowering them to do more with the money they make. This partnership between Operation HOPE and Wikia is creating a global platform for which collaboration on the development of financial literacy curriculum will be available each participating country.
First, identify your country on the home page and click on the link to your language. For the purposes of this example, we are using USA and English. Once you have landed on the language page, you will have two ways in which you can use the Global Money site.

1. "Download Curriculum"-which is listed as a red button on the language page
If this option shows on your language page, a country partner of Global Money has taken the English template of the Banking on Our Future curriculum and translated it into the native language of their country.
You can download the translated financial literacy curriculum for use in your community.
If this option does not show up on your language page, it means that a country partner has not yet been identified. If you are interested in becoming a country partner and contributing to this initiative, please contact us at globalmoney@operationhope.org.
2. "Download Translation Package" –which is listed as a blue button on the language page
Individuals, like you, who are passionate about financial literacy can utilize Operation HOPE's English curriculum to transform it, and make it relevant to your country by translating it into your own language and customizing it to your country's financial system.
In this link, you will find English templates of the curriculum that you can download and translate into your native language.
The documents are sorted by age group. KIDS (ages 9-10), TEENS (ages 11-14) and YOUNG ADULTS (ages 15-18).
Once you have translated the curriculum, please send us a copy at globalmoney@operationhope.org